Hello!
How is your Monday going so far?
I am a little behind, to be honest! You see, I just got back from the AWESOME Haven Blogging Conference!!
Actually, I am still not all the way home. We fly back to California tonight. Today I am sitting at my Mom and Dad's house, in Nashville, blogging from their kitchen.
They watched the little guy for me, while I went to Atlanta to meet up with all of the amazing bloggers attending the conference. I promise to to a Haven post later this week.
Today, I thought I would show you what our Master Bath looked like when we first bought our home, 12 years ago. If you would like to see my recently updated
Post Reno House Tour, click here.
I had no idea that I would be blogging about our home someday, so keep that in mind when viewing these photos! (Sorry about the poor quality of some!)
Here we go... BUT FIRST, let me just show you what it looks like now!
I painted the oak cabinets, changed out the old brass faucets, and painted (yes painted!) my shiny brass shower trim with bronze spray paint. Painted the walls, ceiling, and doors.
Ok, brace yourselves for the out dated ugliness!!
This is what the house looked like the day we first saw it. We put an offer in that same day. The previous owner had used busy wallpaper and a dark border. Eeek!
See the lovely (sarcasm) shiny brass fixtures? I can't figure out why they chose that! They were dated even when the built the house in the late 90's!
Money was tight when we first moved in, so all I did was strip the wallpaper, and paint it a light neutral color. It stayed that way for the fist few years, until I could decide what I wanted to do.
We had so many other rooms we were working on, so this room became the last priority.
Ignore that flash, and reflection! Ugh! But look at those cabinets! They were just screaming for a coat of paint!
Oh boy, it is hard to even look at these without cringing!
I guess I thought a stencil would dress it up for a while???
Crazy!
About 3 or 4 years after moving in, I painted the cabinets. I'm not finding a photo of that step, but when I do, I will add it to this post.
So, while my hubby was away on deployment two years ago, I painted the bathroom, changed the fixtures, and decided to try spraying the shiny brass shower trim instead of paying to replace the custom trim.
It made a huge mess, but it totally WORKED!! It's been two years, and it's holding up GREAT! I also sprayed the tub fixture, because I ran into all kinds of trouble trying to replace it!
I promise to do a post on how I did this, with more pics, sometime soon!
I really love how it turned out! I know that everyone is doing very light and bright bathrooms, but I was trying to keep the existing granite, and honestly, this room is south facing, and gets TONS OF LIGHT all day, so it never feels too dark, even with the dark chocolate brown walls and ceiling.
I really debated on whether to paint the doors in this room black, and I am SO glad I did!!!
When they were white, it looked like an Oreo! Haha!
So, that's a little before and after of out bathroom, totally transformed by paint! The only thing I bought other than paint, were the 2 faucets for the sink, a new shower head and wall kit, and new hardware for the cabinets.
I think the whole reno cost between $800-$900 for everything!
I am still pleased with how it looks. Someday it would be nice to have a white bath with Carrera or Calcutta marble, and mosaic or herringbone coordinating tile in the shower...but that's not on the agenda.
Maybe in the next house! ;-)
Thanks so much for stopping by!
Hope you have a great week!
xo-Lisa
I will be linking to the following...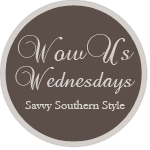 Between Naps on the Porch-Metamorphosis Monday