~ Hello my peeps!~
Happy Monday to you!
I am excited for this week. Wednesday is the last day of school for the little guy, and then we have summer freedom!! Woo-hoo!
I can't believe he starts Kindergarten this fall... I think we need to make the most of our free time this summer!
I wanted to share an awesome, EASY project I did for my sister in law this past week.
(While she was in Paris. *Poor thing.*)
My lovely nieces got the idea to surprise her, and paint their dining room while she was away, and after the paint went up, I looked at the hutch, and suggested we give it a little face lift.
Here's the before...I almost forgot to take a pic. We had pulled most everything off of the shelves, and I was already trying to re-style them to decide what I wanted to display.
I swear, this is super cinchy to do!
Here's what I used to transform the back of this antique pine hutch...
Foam core, fabric, and duct tape. Yes, duct tape.
After measuring each shelf, and cutting the foam core to fit, I did the same for the fabric, while adding an extra half inch all the way around so I could wrap and attach.
I decided it would be easier to just tape it, rather than use spray adhesive, since I was working with a stripe pattern. I wanted to make sure that I could re-position the fabric if the stripes were crooked.
It worked GREAT!!
SO EASY!
Here's a shot after the first one went up.
Here's the after...
For the styling of the shelves, I just used what she had on hand, and tried to edit down a bit. I was looking to give it sort of a beachy feel.
She has a few awesome hotel silver pieces that I wanted to be sure and include.
I also mixed in crystal and glass, and filled the containers with wine corks, sea shells, and her extra napkin rings.
It was an incredibly easy project, and it gave this antique hutch a fresh new look.
When she gets tired of this fabric, it can be easily changed or removed.
Now let's talk about how Nate Berkus copied me... Hehe.
I am not even kidding when I tell you that I came home that night, and scrolled through my DVR'd list of programs, and started watching the ultimate cutie-pie, Nate.
I sat in stunned silence as I watched a little segment where Nate shared his easy update ideas, and he did this very same thing in the back of a book shelf.
Of course he got a hearty round of applause for it, and he makes the BIG bucks, AND he totally stole my thunder!! Hmmph!
:-)
I know, he's a genius. Im sure he's been doing it like, forever.
I was thinking that this may be my ticket to the big time, maybe I would even be featured by the cutie pie himself, on his blogger's decor segment...
Curses. Foiled again!
That's ok. I'll keep trying.
I will see you on your show, Nate!
Until then, have a great day!
See you tomorrow!
xo
-Lisa
Linking up to the following...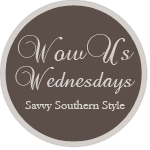 BNOTP
Metamorphosis Monday