~ Happy Monday! ~
I am so excited to share my latest Thrifty Transformation!
Here she is...
Here's what she looked like when I found her last week at a garage sale...
Here's what I decided to do...
I removed the brown paper backing, and bent the nails up, all the way around so that I could remove the oil painting as well.
Then I used the painting as a template, traced it on foam core, and cut it out.
I used spray on chalkboard paint, and it worked GREAT!
I popped the painted foam core back into the vintage frame, and took out my chalk and made a quick menu board.
I'm sure it will change many times over, but I was just testing it, and wound up liking how it came out.
I was feeling a little Parisian at the time, what can I say?
I will show it to you in the kitchen when my reno is complete. For now, this is just a peek!
I LOVE it!
For about $30 (frame and supplies), I have a totally one of a kind chalkboard menu from a garage sale find!
Hope you have a great week!
See you tomorrow!
xo
-Lisa
Linking up to the following...
New Nostalgia
Anti-Procrastination Tuesday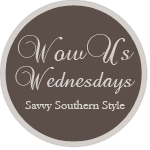 New Nostalgia
Anti-Procrastination Tuesday